I. What is Chiliz?
Chiliz, created by the eponymous Malta-based FinTech provider, is the leading digital currency for sports and entertainment. It runs the blockchain-based sports entertainment platform Socios, which allows users to influence the governance of their favorite sports brands. Multiple fan tokens by Socios.com are an example of that. Fan tokens provide a way for sports clubs and associations to connect with their fans while also unlocking new revenue streams.
Fans, for example, can participate in and influence club-related decisions through surveys and polls, such as which messages the captain should wear on his armband. The company's goal is to bridge the gap between being an active and passive fan. Chiliz has formed alliances with some of the world's most prestigious sporting institutions, including FC Barcelona, Manchester City, Juventus Turin, and Paris Saint-Germain. It also has partnerships with the UFC and gaming organizations. By purchasing CHZ, fans gain access to various fan tokens and effectively own a stake in their club.
II. History of Chiliz
Chiliz is a digital currency for sports and entertainment that was founded in 2018 by Alexandre Dreyfus. Chiliz believes that in today's sports and esports environment, fans have no influence over their favorite teams or players. However, there is a desire to 'activate' fans as influencers. Chiliz's goal is to create a platform where fans can directly vote for their favorite sports organizations, connect with others, and help fund new sports and esports entities.
Chiliz raised $66 million through a private placement in the second quarter of 2018. CHZ was publicly listed on major cryptocurrency exchanges such as Binance, BitMax, and KuCoin after being distributed to early contributors.
The majority of the funds are being used to develop Socios.com, a fan engagement and rewards app that was launched at the end of December 2019. Fans can use CHZ, the platform's exclusive currency, to purchase these branded Fan Tokens, which give users influential decision-making power by allowing them to vote on polls published by Chiliz's partners within the Socios app. Ownership also grants fans access to exclusive rewards, engagement, gamification, social interaction, and leaderboard features, among other things.
Football clubs such as Juventus and Paris Saint-Germain are among the first to use the platform to create Fan Tokens. Socios.com intends to sign up 50+ teams from football and other sporting verticals, including esports and traditional games like cricket.
Chiliz has currently onboarded 19 Official Partners to Socios.com and has held Fan Token Offerings for 11 of those partners.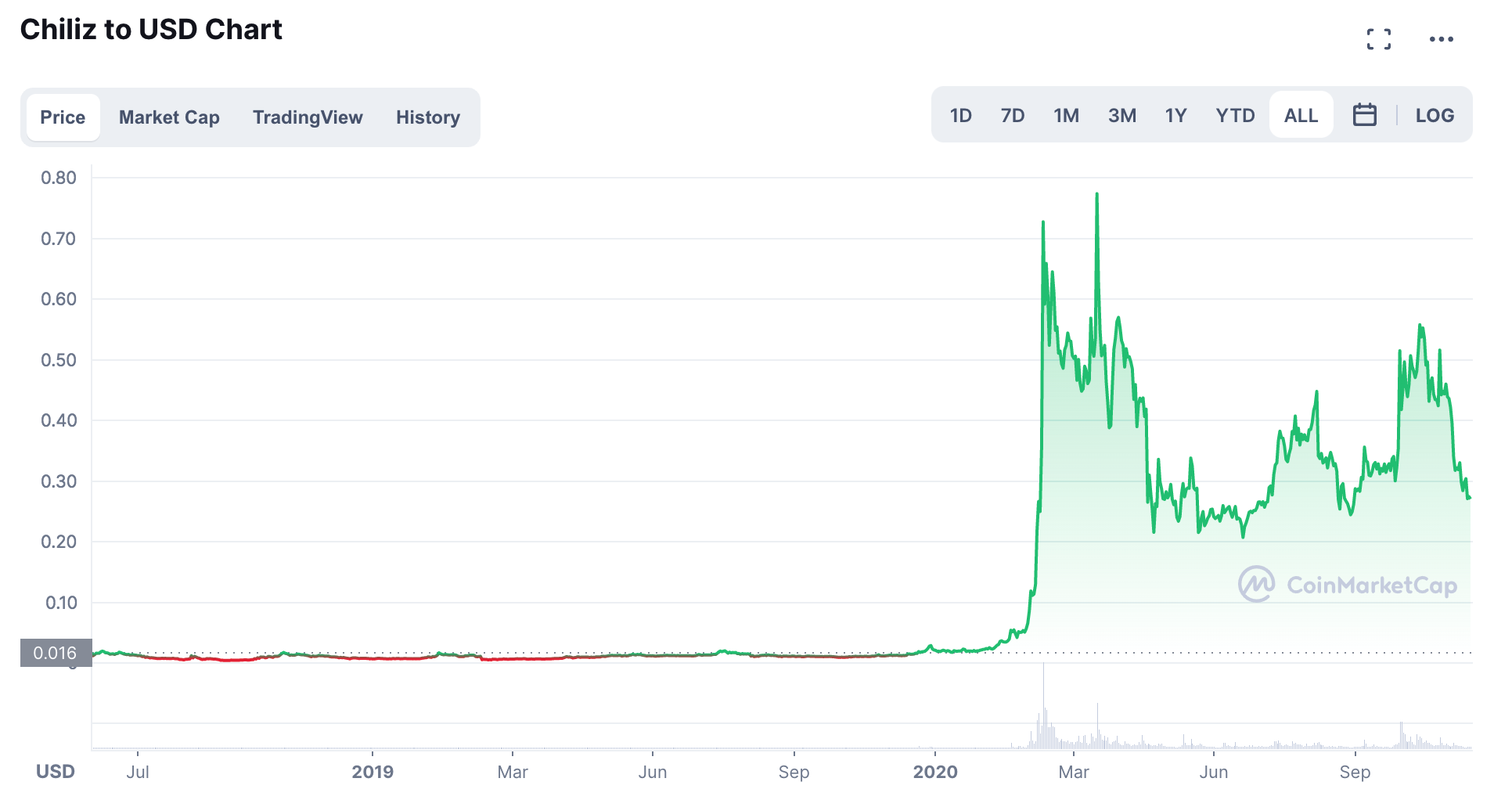 III. Striking Features of Chiliz (CHZ)
Chiliz is the first to launch a scalable fan engagement and rewards platform. Unlike other fan-based apps, its main goal is to convert "passive" fans into "active" fans through direct engagement. The following are some of the characteristics that distinguish Chiliz:
NFT integration.

Fan tokens.

Blockchain-based fan engagement.

Exclusive voting rights.

Decision-making rights.

Crypto trading marketplace.
IV. Core Technology of Chiliz (CHZ) 
The CHZ token is a BEP2 token on the Binance Smart Chain and an ERC20 token on Ethereum blockchain. CHZ tokens can be purchased from Chiliz.net, the platform's own exchange, as well as world-class cryptocurrency exchanges like Kraken.
When a fan buys CHZ tokens, they can use them to buy Fan Tokens for their favorite teams from Socios.com.
Fan Token Offerings (FTOs) have been held by dozens of teams and sports organizations around the world, including FC Barcelona, the Golden State Warriors basketball team, and the Aston Martin Cognizant Formula1 team. Each franchise can customize the price, supply, and distribution of their Fan Token, as well as the special rewards and abilities that Fan Token enables. Fan Tokens, for example, can be used to gain access to exclusive meet and greets, memorabilia, and direct voting decisions on each team's direction.
Importantly, Fan Tokens can be burned or removed from circulation based on the team's performance, which means that outcomes such as winning games or scoring points can make Fan Tokens more scarce and thus more valuable.
1. Proof of Authority (PoA)
A Proof of Authority consensus algorithm is used to create and verify Fan Tokens on the Socios sidechain.
Proof of Authority (PoA) differs from other consensus algorithms such as Proof of Work or Proof of Stake in that it relies on a smaller number of approved verifiers rather than a distributed network of anonymous nodes to ensure the network's integrity.
While PoA is a less decentralized consensus method, it is frequently used by blockchain networks that want to be more scalable and efficient. Other platforms that use the Proof of Authority consensus mechanism include Energy Web Token (EWT) and VeChain (VET).
2. Oracles
Chiliz has announced a partnership with Chainlink, a decentralized oracle network, to provide real-world data to smart contracts. Chiliz hopes to create non-fungible tokens (NFT) in near real-time to commemorate special events such as player milestones or championship wins.
V. What is CHZ?
1. Detailed Information about CHZ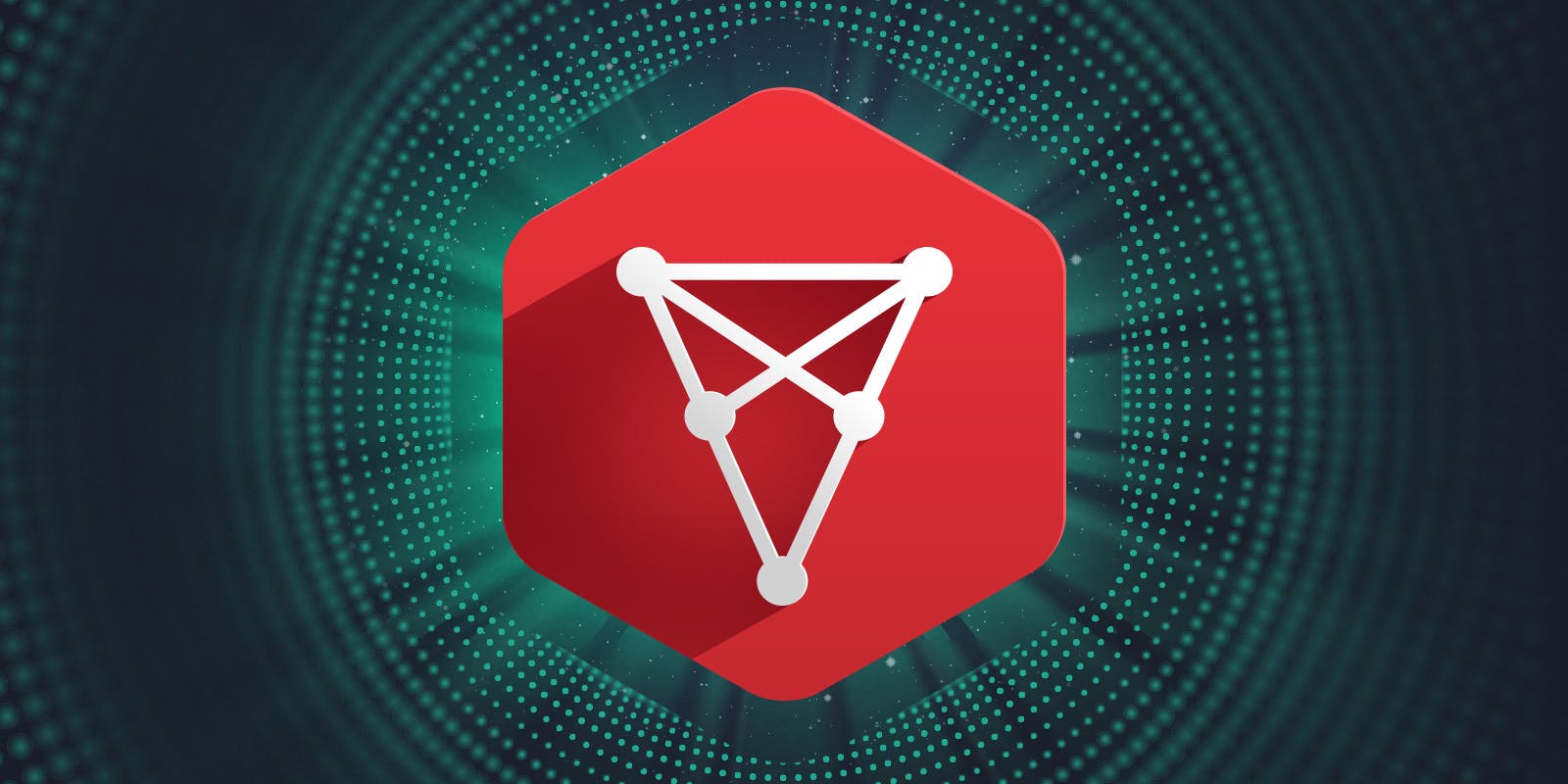 The CHZ coin is the primary cryptocurrency on the Chiliz blockchain, and it powers the ecosystem. It is the currency used to exchange fan tokens. The value of fan tokens is measured in trading pairs by CHZ.
2. CHZ Allocation
3. CHZ Token Metrics
Marketcap: $1,497,702,047
24h Trading Volume: $942,599,036
Initial Token Price: $0.01
24h High: $0.29
Circulating Supply: 5,344,064,580
Total Supply: 8,888,888,888
Fully Diluted Valuation: $2,491,157,597
24h Low: $0.26
4. Use Cases of CHZ
Chiliz (CHZ) is a digital currency that can be used in sports, e-sports, and entertainment platforms, as well as in a variety of other industries. Its goal is to create a blockchain ecosystem for sports and entertainment.
Chiliz is an ERC20 token that is currently the sole crypto-asset powering the Socios.com platform. Chiliz allows sports teams and other organizations to create their own fan token, which can then be used as a medium of exchange within the community. When fans join the Socios.com platform, buy Chiliz tokens, and use them to vote, they become part of the crowd-managed decision engine for the organization they've chosen to support. Organizations can also use the in-app experience to engage their offline fanbases with merchandise, giveaways, and exclusive experiences within the Chiliz ecosystem.
Large football clubs such as FC Barcelona, Paris Saint-Germain, and Juventus F.C. have all issued their own fan tokens. The Chiliz Exchange accepts these tokens for trading.
CHZ tokens are supported by both the Binance Chain and the Ethereum blockchains.
VI. How to earn & own CHZ?
To purchase Chiliz (CHZ), you must first open an account with a cryptocurrency exchange. You can buy CHZ cryptocurrency on the following exchanges:
VII. Which Crypto Wallets a

re suitable for CHZ?
Here is the list of popular and best Chiliz (CHZ) wallets:
Ledger Nano S 

Trezor One 

Trust Wallet

Atomic Wallet

MyEtherWallet
VIII. CHZ Recent Developments
On 1 August 2022, Chiliz

announced

that its fan engagement and rewards platform Socios.com had acquired a 24.5% stake in Spanish football club FC Barcelona's digital content creation and distribution hub, Barca Studios, for $100m.

According to Chiliz, the deal made Socios FC Barcelona's strategic technology partner work on the club's blockchain, NFT and digital assets, and

Web3

strategies.

The CHZ token surged on news of the deal, gaining over 60% in August so far, as of 19 August 2022.

In February 2020, Socios and FC Barcelona signed a partnership to launch the $BAR fan token on Socios. In other news, Chiliz

announced

in June 2022 that users in Italy, Spain, France, Poland, and the UK can purchase CHZ tokens via their Paypal account. 

In March 2022, football superstar Lionel Messi was

named

the Socios global brand ambassador.

In October 2021, NBA team the Los Angeles Lakers

signed

an official team sponsorship deal with Socios.

Looking forward, a layer-one blockchain network called Chiliz Chain 2.0 is

expected

to see its mainnet launch in the fourth quarter of 2022.

As of 19 August,

CoinCodex

's

one-month CHZ price prediction saw the token rising to $0.203.

For the longer term, algorithm-based website

Wallet Investor

's

CHZ crypto price prediction expected the token to trade at an average price of $0.0439 by the end of 2022.

Wallet Investor's

CHZ price prediction for 2025 expected the token to fall to an average price of $0.000998 by the end of 2025.

DigitalCoinPrice

was bullish about the Chiliz cryptocurrency's price performance for the long term and expected the token to trade at an average price of $1.04 in 2030.
IX. Teams, Funds & Partners of Chiliz (CHZ)
1. Team
Alexandre Dreyfus is the founder and the current CEO of Chiliz. The company was established to inspire millions of football fans worldwide. Dreyfus has also founded and grown a number of web-based businesses over the course of his 20-year career. Dreyfus previously founded Webcity, Winamax, and Chilipoker before launching Chiliz in 2017. Winamax and Chilipoker are both online poker projects, and Webcity is an interactive travel guide.
The company's goal, according to Dreyfus, is to develop Fan tokens as the ultimate fan interaction tool and a significant new revenue source for the sports industry. This is exemplified by the aggressive expansion of Fan tokens with major European football powerhouses.
2. Investment Funds
Chiliz has raised a total of $66M in funding over 2 rounds. Their latest funding was raised on Apr 7, 2021, from a Venture – Series Unknown round.
The Chiliz team has confirmed that $27 million has already been secured through early, private token placement. Current esports teams and leagues have expressed great excitement and enthusiasm for the project, which is set to change how esports fans interact and engage with their favorite teams. Demand for the project is also picking up steam in Asia, which is the epicenter of the fintech and esports industries.
3. Partners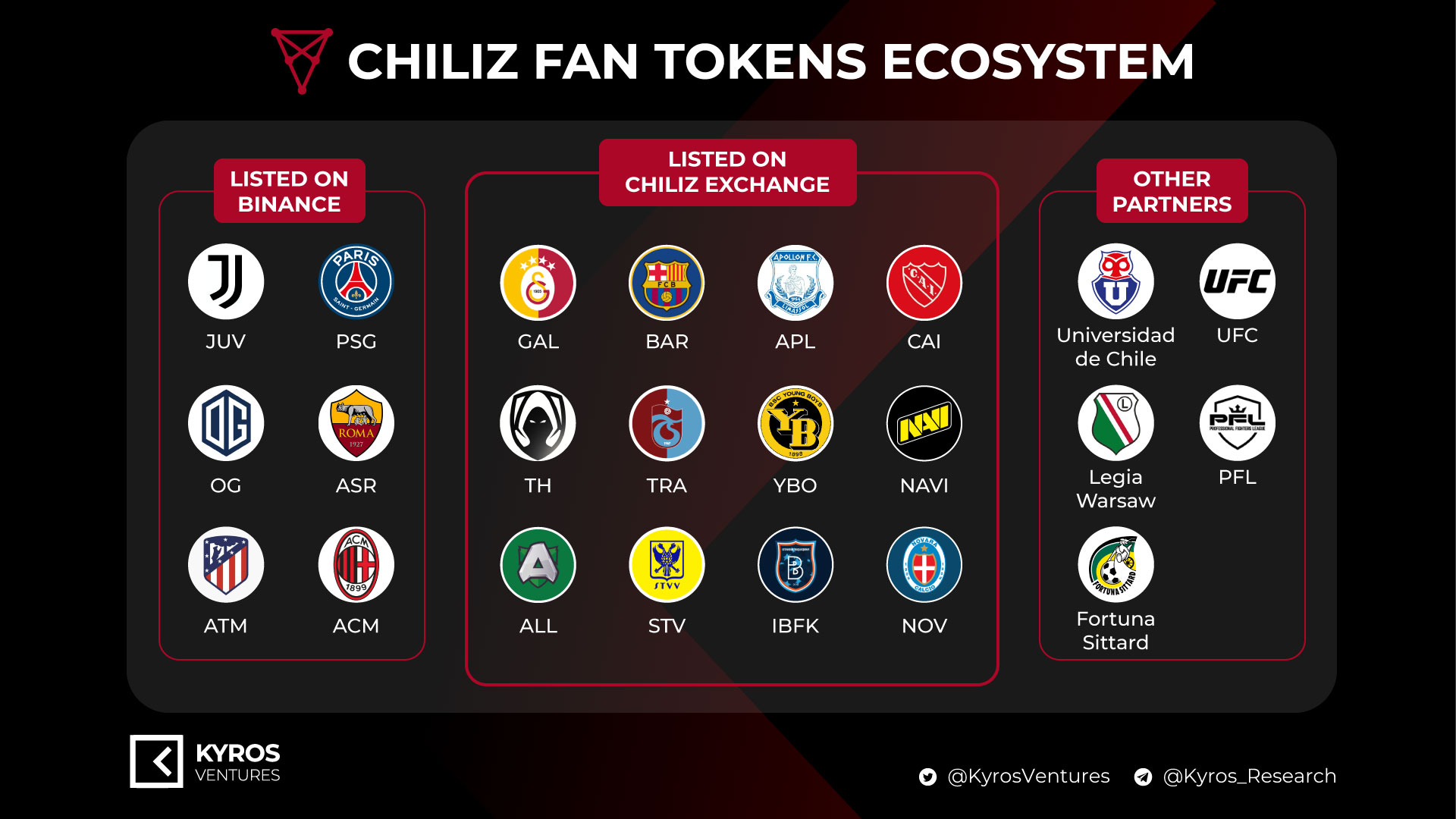 X. Where is Chiliz (CHZ) information to be updated?
Currently, Crypto users can fully consult, research, and analyze information about Chiliz (CHZ) through famous media newspapers such as Nasdaq, Forbes, AP News, Coingecko, Capital.com, Coinbase, Kraken, BeIncrypto…
These media are constantly updated with useful information, new activities, outstanding events of Chiliz, and all the topics surrounding it. Accordingly, Meta Lion Ventures continuously updates the topic of outstanding projects in Blockchain and hot events organized between Meta Lion & partners.
XI. FAQs about Chiliz (CHZ)
How is the Chiliz Network secured?
CHZ is available on several blockchains, including Ethereum, Binance Smart Chain, and Tron. Fan tokens are minted on its Socios sidechain using a proprietary crowd control mechanism, ensuring that fans are in a secure environment and voting only in publicly audited polls. The sidechain uses a proof-of-authority consensus mechanism. Proof-of-authority is mostly used by private organizations that have closed blockchains and only users within their ecosystem participate. It is less decentralized than other consensus mechanisms, but it is easily scalable and highly secure, making it an excellent choice for a sidechain. The CHZ token has been audited by Certik.
How are new Chiliz (CHZ) tokens created?
$CHZ holders and sports fans can stake $CHZ using fan tokens and the rewards app Socios.com. Token holders and fans can benefit from new Fan tokens and a 10% $CHZ bonus yield by doing so.
Furthermore, Chiliz created the Locker Room concept, and the first three companies to be included in the Locker Room are The Galacticos, Blue Manchester, and Milan Devils.
This is how it works:
A user needs to enter the Locker Room on Socios.com, where there are lockers for different potential partner clubs. The user selects one locker and use $CHZ to make a purchase. The locker stays open for 120 days.

On a first-come, first-served basis, Locker tokens are offered. If the final supply established by the potential partner club is less than specified and the launch occurs within a 120-day period, this will still be the case.

Staking bonus: If a user buys Locker tokens and subsequently converts them to legitimate Fan tokens, a 10% $CHZ staking bonus is credited to their Socios.com account. For 120 days, a 10% yield is expected. 

Locker tokens are converted into official Fan tokens at a 1:1 ratio if the potential partner club decides to launch on Socios.com.

If the potential partner club decides against launching a Fan token, users who have bought Locker tokens are eligible to receive a refund of $CHZ committed to their Socios.com account once the 120-day window is ended.
How do Crypto users buy CHZ tokens?
There are several ways to obtain CHZ. To begin, open an account on a crypto exchange that has listed it and purchase it with fiat or cryptocurrency. Some popular exchanges where you can buy CHZ include Binance, Coinbase, OKX, Digifinex, Kraken, etc. Most of these exchanges will let you use your credit or debit card to buy CHZ in fiat currency.  
Secondly, you can buy CHZ on Socios or Chiliz exchange and use it to acquire fan tokens.  
How much is Chiliz coin worth?
According to CoinMarketCap, the Chiliz token is currently worth $0.18 and has a market capitalization of $1.12B. Chiliz cryptocurrency prices are directly influenced by Chiliz partnerships, the success of the Socios platform, and the team's popularity.
Conclusion
Chiliz was an undervalued gem in early 2021, and its price has since skyrocketed. Even to those outside the crypto world, the appeal is obvious and logical. Fans adore their teams and want to participate as much, as frequently, and as widely as possible.
Chiliz's future success may be dependent on Socios.com, but Socios is still doing well. Their number of official partner clubs jumped from 20 to 48 in just the first half of 2021, and the company announced more than $200 million in revenues during that time. In 2021, they announced plans to partner with Visa to issue cards emblazoned with the Fan Token logos of the biggest teams on Socios' books. While CHZ is built on the Ethereum blockchain, their recent partnership with Binance means that fans can expect faster trades and lower fees, which means more CHZ can be spent on your favorite Fan Tokens.