I. What is Oasis Network?
The Oasis Network is a proof of stake (PoS) blockchain network designed to act as a privacy protection platform for open finance and the use of data responsibly. Oasis is a base layer blockchain similar to Ethereum or Bitcoin, but it was built from the ground up with data security and increased throughput of up to 1,000 transactions per second (TPS).
One of the main obstacles to the technology's adoption, according to some reports, is the lack of anonymity in the blockchain chain. As a blockchain system that prioritizes privacy and enables a decentralized data economy and open finance, Oasis Network seeks to close this gap.
It is the best option for providing private and scalable decentralized finance (DeFI) applications as well as open finance implementation for cryptocurrency traders and early adopters due to its mix of unique data protection capabilities, high throughput, and security design.
II. History of Oasis Network
In November 2019, Oasis Network commenced Public Test. Oasis now permits nodes to test run with specific features (no staking and delegating). To compensate users who found security weaknesses in Oasis, the team launched the Incentivized Testnet in January 2020.
Oasis introduced Amber Network in June 2020, which offers all of the essential network functions like staking, delegation, ParaTimes, etc. Oasis Mainnet Beta will formally launch in November 2020, and at that time, it will enable EVM compatibility. Up until today, the Oasis Mainnet has been reliable.
III. Striking Features of Oasis Network
Guaranteed Privacy

: Oasis Network is a scalable blockchain with a privacy-focused design. To protect data and open up new use cases and applications for the blockchain, ParaTime on the Oasis network can make use of private computing technology (also known as Secret Computing) as secure lines of code.

Scalable and DeFi Privacy Features

: The privacy-first architecture of the Oasis network can broaden DeFi's appeal to a variety of conventional financial investors. Additionally, the Oasis network provides high throughput and quick DeFi transaction processing speeds.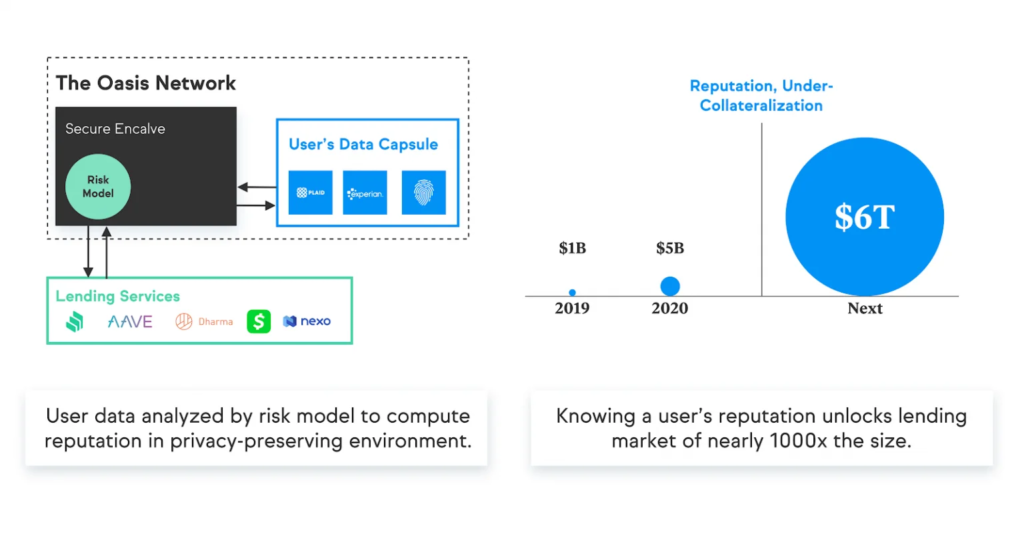 Enable data first

: Oasis Network can encrypt data, opening up entirely new ecosystems of projects and apps as well as game-changing use cases for blockchain. In other words, it fuels the upcoming wave of privacy-first apps.

IV. Core Technology of Oasis Network (ROSE)
Consensus Layer and ParaTime Layer are the two primary building blocks of blockchain architecture, which improves scalability and flexibility.
Multiple ParaTimes can process transactions simultaneously thanks to the separation of consensus and execution. This means that speedier, simpler transactions on another ParaTime won't be slowed down by complicated workloads executed on one ParaTime.
Since the ParaTime Layer is entirely decentralized, anyone can create their own ParaTime.
Oasis is more effective than sharding and parachain because of the network's capacity to recognize differences: a lower replication factor is needed to get the same level of security.
V. What is ROSE?
1. ROSE

Token Metrics
Token Name: Oasis ROSE
Ticker: ROSE
Blockchain: Oasis Blockchain
Explorer: https://www.oasisscan.com/
Token type: Utility
Total Supply: ~ 10,000,000,000 tokens
Circulating Supply: 1,500,000,000 tokens (at launch)
2. ROSE Noticeable Milestones
The project's roadmap through 2020 was finished by Oasis Network, which was founded in 2018. Oasis Network is still updating the 2022 roadmap, and no information about it has been shared with the community. As soon as the project makes an official announcement, the Coinvn team will update.
3. Use Cases of ROSE
ROSE is a native token with a limited supply that is employed in the following ways:
Utility Token: Used at the Consensus Layer for transaction fees, staking, or trusting.
Staking Reward: Pays stakers and delegators staking rewards to help protect the network (approximately 2 million tokens).
VI. How to earn & own ROSE?
The Oasis network is now more secure since users can now take part in the ROSE Garden system to win rewards. Two components make up ROSE Garden:
ROSE Farm: Get ROSE by temporarily depositing USDC/ USDT into ROSE.
ROSE Cultivate: Get ROSE by staking farmed ROSE.
Anyone can join ROSE Farm, but to join ROSE Cultivate, participants must first join ROSE Farm.
The ROSE Garden program is about to be conducted on Coinlist with a staking reward of up to 31.5 million ROSE. All ROSE earned will be paid after 40 days of lock-up.
VII. Which Crypto Wallets are suitable for ROSE?
The ideal place to store and stake ROSE is the Oasis network's web wallet. It offers a user-friendly interface for rapid ROSE token transfers as well as robust security mechanisms and token-based authentication to keep your wallet balance safe.
The simplest way to stake ROSE is through Oasis Web Wallet. Holders of tokens have the option to support the network by staking their assets, which allows them to get up to 20% in incentives. All of the essential functions of the main web wallet are also available via the wallet's Chrome extension.
Users can utilize the following wallets, in addition, to directly storing ROSE tokens on exchange wallets:
A safe and convenient mobile cryptocurrency wallet is called Bitpie Mobile Wallet. On Bitpie Mobile Wallet, you can create Oasis wallet addresses so that you can receive ROSE coins and send ROSE tokens to other legitimate Oasis wallet addresses.

Providers of custody: Copper.co, Anchorage, Finoa

Hardware wallets like the Ledger Wallet are regarded as secure. But to use it, you must get a Ledger storage device.
VIII. ROSE Recent Developments
Oasis Network was born in 2018 and has completed the project's roadmap to 2020. Details of the 2022 roadmap are still being updated by Oasis Network and have not been announced to the community.
IX. Teams, Funds & Partners of Oasis Network (ROSE)
1. Team
The development team at Oasis Network is made up of elite talent from around the globe who have worked at renowned tech firms and institutions including Apple, Google, Amazon, Goldman Sachs, UC Berkeley, Carnegie Mellon, Stanford, and Harvard. which comprises:
Director Jernej Kos, Lead Engineer Tadej Jane, Core Platform Engineer Peter Us, and Community Manager Jon Poole are all members of the Oasis Foundation.
Oasis Labs was founded by Dawn Song, and its director of engineering is Peter Gilbert.
2. Investment Funds
Binance Labs just made an announcement about joining the Oasis ecosystem fund to support initiatives created on this platform. The Oasis ecosystem fund now has a US$200 million value thanks to Binance Labs' investment.
Oasis Network raised around US$45 million between 2018 and 2020 from investors including a16z, Pantera Capital, Polychain Capital, and others.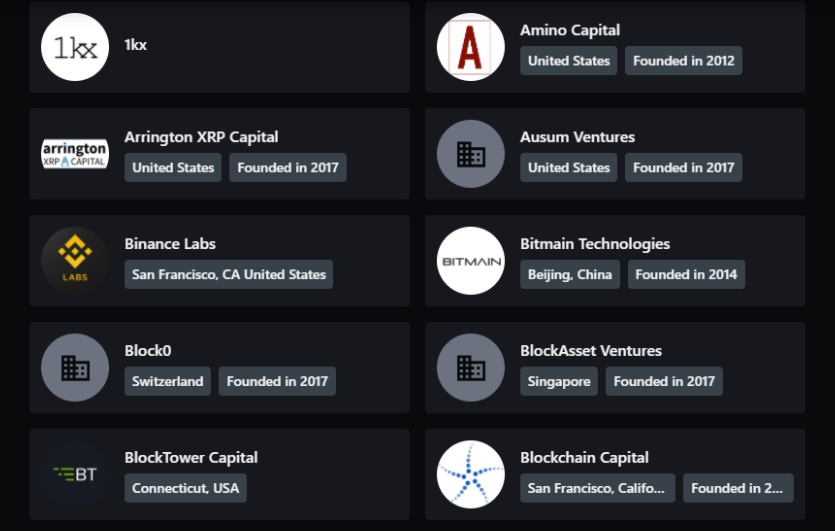 3. Partners
Oasis Network partners are diverse, including application integration partners, Node Operators, etc.
X. Where can ROSE information be updated?
Currently, Crypto users can fully consult, research, and analyze information about Oasis Network (ROSE) through famous media newspapers such as Nasdaq, Bloomberg, Forbes, AP News, Yahoo!Finance, CoinTelegraph, Coindesk, etc
These media are constantly updated with useful information, new activities, outstanding events of Oasis Network, and all the topics surrounding it. Accordingly, Meta Lion Ventures continuously updates the topic of outstanding projects in Blockchain and hot events organized between Meta Lion & partners.
XI. FAQs about Oasis Network (ROSE)
What blockchain is Oasis Network on?
Oasis Network is Layer 1 blockchain. A decentralized layer 1 blockchain system called Oasis Network is made to support private and Ethereum-compatible smart contracts.
Where can Crypto users buy Oasis protocol?
Fortunately, Crypto users can buy Oasis Network on centralized exchanges such as Coinbase, Binance, Pancakeswap, etc. It's quick, secure, and easy. Here's a step-by-step guide on how to buy Oasis Network.
Is Oasis built on Ethereum?
Like Ethereum or Bitcoin, Oasis is a base-layer blockchain with data secrecy and throughput increases of up to 1,000 transactions per second that were designed from the bottom up (TPS).
Is Oasis an ERC20 network?
ERC20 Token for the Oasis Network (ROSE) on the Ethereum mainnet. With address 0x2037df0add38e407e9fc6f8658399031548cd8b3, the token is implemented as an ERC20 smart contract.
Conclusion
Privacy is becoming one of the main issues facing technology in the future due to the surge in data demand. The Oasis Network's blockchain design has the capacity to enable a number of privacy-preserving capabilities and address that important issue.
A high level of security and trust may be built into applications by developers thanks to the privacy-preserving blockchain architecture offered by Oasis Network. Oasis Network enables applications to quickly add privacy protection measures to ensure that users' data and assets are always in good condition by fusing blockchain technology and safe computing (Confidential Computing).
In addition, Oasis Network has a sizable global network of partners and investors. The Oasis Ambassador program, where volunteers with a passion for the Oasis Network hold meetings, produce and translate content, and respond to inquiries from sponsors, is one of the initiatives that affect the popularity of the Oasis Network. create and oversee online communities, etc.
The Oasis Network investment community is mainly familiar with Bangladesh, Vietnam, India, Brazil, Korea, Nigeria, Philippines, Russia, China, Korea, Turkey, and so forth.
Oasis Network joined the top 100 projects with the highest capitalization in the cryptocurrency market after more than 4 years of steady growth.
The above is Meta Lion's comment on the Oasis project which is our personal opinion, this is not investment advice at all. Investors should be responsible for their own decisions.