I. What is OKB?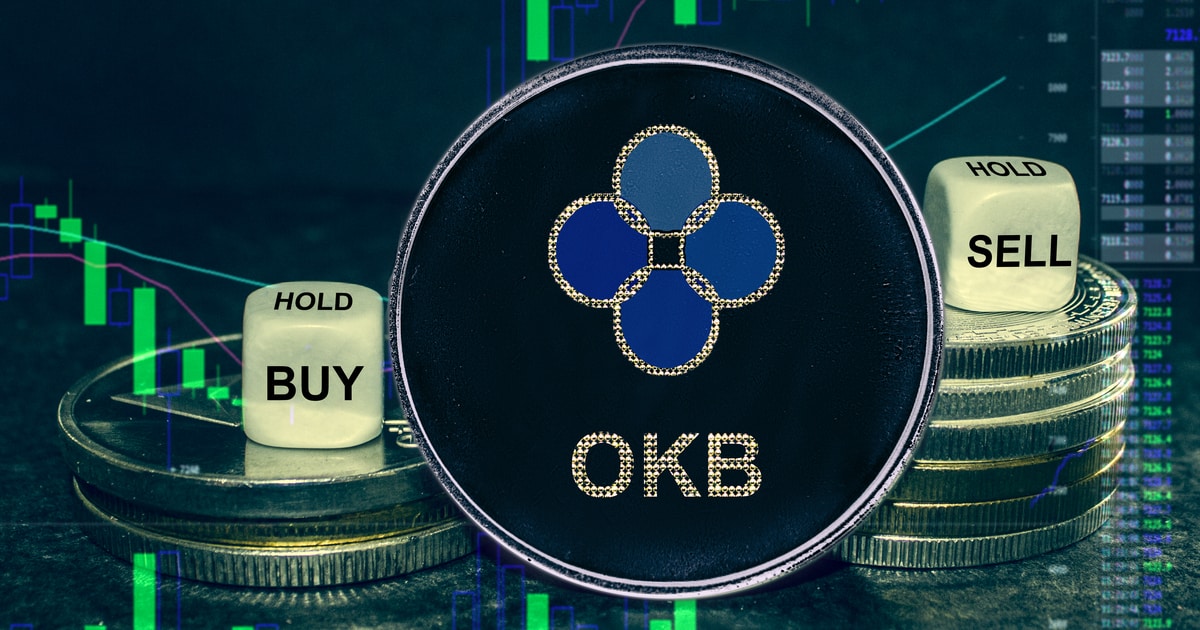 OKB is OKEx's native exchange token that provides trading fee discounts, access to the OK Jumpstart initial exchange offering (IEO) platform, and voting rights for tokens to be listed on the exchange. It will be used to pay transaction fees on the OKChain blockchain as well as the decentralized exchange OKDEX in the future.
II. History of OKB
OKB, founded by Jay Hao and Mingxing Xu, was launched in 2019, two years after OKEx. OKEx is a Maltese branch of the Chinese OKCoin platform, which debuted in 2013. OKCoin specialized in exchanging fiat for cryptocurrency, whereas OKEx specialized in crypto trading with a dedicated API for algorithmic trading. The OKEx platform also offers cloud mining, and the company has a more focused reach in providing users with options trading. OKEx aims to make such sophisticated trading methods accessible to everyday users by providing a simple interface.
III. Core Technology of OKB (OKB) 
The coin is an

ERC-20

token

that relies on a proof-of-stake (

PoS

) consensus. OKB operated on the Ethereum blockchain, but later the company moved to its own blockchain — the

OKExChain

.

OKEx is a very transparent platform. Developers assure that security is their top priority as OKEx maintains a reliable and stable trading environment. They use load balancing on servers, distributed clusters, and other technologies for protection.

Furthermore, OKEx has developed

hot and cold wallets

— cold wallets being one of the safest methods for storing cryptocurrencies. Hot wallets, however, require maximum attention to security and capabilities. Therefore, OKEx added a semi-autonomous multi-signature feature that enables fast, convenient, and secure transactions.
IV. What is OKB token?
1. OKB Allocation
2. OKB Token Metrics
Ticker:

OKB

Contract:

0x75231f58b43240c9718dd58b4967c5114342a86c

Decimal:

18

Blockchain:

Ethereum

Token Standard:

ERC-20

Token Type:

Utility

Total supply:

300,000,000 OKB

Circulating supply:

267,436,117 OKB
3. Use Cases of OKB
Transactional Fee Discounts
Based on your OKB holdings, the platform has defined levels. The higher your level, the greater your transactional discounts on OKB coins. Aside from that, the platform defines VIP users who receive better discounts and benefits based on trading volume.
OKEx provides a Jumpstart session, which is an OKEx token sales platform, and holders who hold a minimum of 100 OKB coins for 5 consecutive days are eligible to participate. The amount that each user receives at the end of the session is determined by the amount of OKB and the amount of time the holder spent handling the tokens.
When trading occurs, a small amount is frequently left in the wallet that is unused. To address this issue, OKEx offers small-balance conversion, which allows users to convert any remaining balances into OKB tokens.
When a product's supply is limited, its value and demand automatically rise. Similarly, OKB employs a burning strategy every three months. The OKEx spot market transaction fee income of 30% is used to purchase OKB and transfer them to the black hole address for burning. As a result of the supply reduction, the value rises. The 7th burn began in December and ended in February, consuming a total of 3,183,344.61 OKB.
V. How to earn & own OKB token?
The easiest way to obtain OKB coins is to buy them via OKEx. However, there are also many alternative cryptocurrency exchanges where you can purchase or trade the token. These include OKEx, FTX, Gate.io, Uniswap (V2), HitBTC, BiONE, LBank, Hotcoin Global, Coin Ex, ProBit Global, Hotbit. Visit more options listed here: crypto exchanges page.
VI. Which Crypto Wallets are suitable for OKB token?
Here is the list of popular and best OKB wallets:
Trezor

Coinbase Wallet

OKB Wallet

CoolWallet

Ledger Nano S/X

Atomic Wallet
VII. OKB Recent Developments
OKB was worth about $1.60 when it first went public in May 2019. The price remained around that level, albeit initially falling to an all-time low of $1.25 on 17 May 2019, before rising to around $5 in 2020.
A bullish crypto market in early 2021 saw it reach an all-time high of $44.17 on 3 May 2021. Then there was a drop as the crypto market tanked over the summer, with OKB trading for less than $10 at times. Things picked up again in August, with the coin spending much of the autumn trading at or above $20, and it reached a periodic high of $33.44 on 22 December 2021 before closing the year at $28.82.
So far, 2022 has been a tough year for crypto. The coin struggled throughout the first few months of the year and, when the UST stablecoin got debugged, causing the collapse of the associated LUNA cryptocurrency and triggering a massive market crash, OKB sunk to a low of $10 on 12 May.
Things got even worse the next month, as the cancellation of withdrawals on the Celsius (CEL) crypto lending platform confirmed the bear market and saw OKB drop to $9.71 on 19 June 2022.
Since then, though, there has been something of a recovery, with the coin breaking through $20 for a period in the middle of August, before it settled down again to trade at around $16.62 on 9 September 2022. The price dipped to $14.47 on 22 September, according to CoinMarketCap, and the next few weeks saw heavy volatility.
OKB was trading at $15.85 on October 10, 2022. There were 60 million OKB in circulation at the time, out of a total supply of 300 million. This gave the coin a market cap of around $950 million, making it the 50th-largest cryptocurrency by that metric.
VIII. Where will OKB (OKB) information be updated?
Currently, Crypto users can fully consult, research, and analyze information about OKB through famous media newspapers such as Nasdaq, Bloomberg, Forbes, AP News, Yahoo!Finance, CoinTelegraph, Coindesk, Kraken…
These media are constantly updated with useful information, new activities, outstanding events of OKB, and all the topics surrounding it. Accordingly, Meta Lion Ventures continuously updates the topic of outstanding projects in Blockchain and hot events organized between Meta Lion & partners.
IX. FAQs about OKB (OKB)
When did OKB first appear?
Since its inception in 2017, OKEx has grown to become a world-class trading floor. The platform debuted in the spring of 2017 as a spin-off of the original OKCoin platform (operating since 2013 in China).
What's the big deal about OKB?
The rewards provided to OKEx exchange users are beneficial. Users can save up to 40% on transactions depending on how many OKB they have. Regular and VIP users are available, as with KuCoin. This is also related to the quantity of OKB held.
Through the OKEx Earn plan, OKB can also provide holders with a passive income. Users earn a dividend/interest rate on OKB stored in their wallets. OKEx, like Binance, has its own native chain known as OKExChain. OKB functions similarly to BNB, powering the chain by facilitating training and app development.
What are OKB's Tokenomics?
OKEx deflationary burns OKB tokens every three months. OKEx also uses 30% of its commission fee income to do this. The remaining 50% of the service fee revenue is then distributed to token holders. Finally, OKB functions as a minor governance token, allowing holders to vote on policies, rates, and so on. However, there is currently little information on the full scope of governance.
What exactly is OKB outside of the OKX Platform?
If you're wondering why the importance of OKB is limited to the OKX platform, we have great news for you. OKB's role in OKX is only a small part of its overall existence. OKB serves a number of platforms outside of the OKX platform that accept OKB as payment.
Indeed, OKX has collaborated with a number of organizations to provide an API that will allow both online and offline merchants to begin accepting OKB as a form of payment in their respective marketplaces.
Conclusion
OKEx is constantly innovating and expanding, so expect more services to be added as the company expands. While it is not currently available in the United States, OKEx is one of the world's largest cryptocurrency exchanges. It manages a large volume, and the team has aggressive expansion plans to ensure profitability in the near future. The following key features will ensure the exchange's sustainability as long as it remains secure and transparent for its users:
OKEx has become a formidable presence in the cryptocurrency space with all of these pieces in place. Committed to adhering to global financial policies and regulations, both the exchange and cryptocurrency in general are expected to remain valuable for future generations.