I. What is Polkadot?
Polkadot is a network that correlates all other networks by connecting the dots. It's known as a multi-chain network since it can connect networks together, as opposed to networks like Bitcoin, which run on their own.
Polkadot is intended to be a better version of Ethereum. Polkadot, which launched in May 2020, is the idea of Ethereum (ETH) co-founder Gavin Wood. He co-founded both the Web3 Foundation (W3F) and Parity Technologies, which today administer the platform.
Polkadot runs at a higher level than a blockchain like Ethereum—think of it as laying the groundwork for future Crypto projects to build on. It refers to itself as a Layer 0 blockchain, whereas Ethereum and other related blockchains such as Solana (SOL) and Cardano (ADA) are referred to as Layer 1 blockchains.
Its ultimate goal is to serve as a framework for any blockchains that opt-in, similar to how HTML allows webpages, browsers, and servers to communicate with one another. The goal is to handle the complicated and expensive cryptocurrency mining procedures (such as transaction validation and security protocols) so that developers may focus on developing Dapp and smart contract features.
II. History of Polkadot
Polkadot's history is intertwined with Ethereum's. Dr. Gavin Wood, the Former Chief Training Officer and main developer of Ethereum, founded it. Solidity, the company's smart contract programming language, was created by him. The principal developer departed Ethereum in 2016 to design a more sharded blockchain, and he released Polkadot's white paper in October of the same year.
Wood co-founded the EthCore Blockchain Technology Company while remaining at Ethereum, which subsequently became Parity Technologies. The Substrate development framework and the Polkadot network are examples of major blockchain infrastructure technologies produced by the business.
Wood also co-founded the WEB3 Foundation in 2017, a non-profit organization designed to assist Polkadot's research and development as well as its fundraising activities.
The first negative occurrence happened within the organization in July of the same year. A hacker took advantage of a flaw in Parity's multi-sig wallet technology and stole 153K ETH (about 33 million USD at the time) from three distinct wallets.
The foundation launched an initial coin offering in October, raising $145 million in a little under two weeks, making it one of the biggest ICOs to that point.
In the months that followed, the WEB3 Foundation team was able to gather enough funding to continue meeting its development goals through a private sale, and by 2019, all was back to normal.
Polkadot's principles and frameworks have existed for quite some time; nevertheless, Polkadot the project really began around 2018 during the inaugural web3 conference. Despite raising more than $100 million in an initial coin offering (ICO) in 2017, the Polkadot project remained relatively quiet in the years that followed. In August 2020, the highly anticipated Poldadot blockchain and its underlying token DOT were formally introduced into the marketplace.
III. Striking Features of Polkadot (DOT)
Polkadot describes itself as a next-gen blockchain protocol that connects several specialized blockchains into one unified system/network. Their main aim is to return control to the people, as opposed to giant conglomerates. The features of Polkadot are as follows:
Promotes Interoperability:

By connecting all these different blockchains, Polkadot promotes unprecedented interoperability between these diverse ecosystems.

Scalability:

A standard set of validators can operate the multiple blockchains connected via Polkadot. This helps increase scalability exponentially.

Innovation:

Polkadot's substrate framework enables you to create a custom blockchain easily. This ease of development should encourage more developers to participate in the system.

Removing Forks:

Forks can cause havoc and split up communities (sample from Bitcoin and Ethereum). Polkadot can integrate new features, fix bugs, and upgrade without needing to fork.

Better Security:

Polkadot coin allows chains to interact with each other meaningfully while remaining independent enough to run their unique governance models.
IV. Core Technology of Polkadot (DOT) 
Polkadot has a number of technological components, such as a relay chain, parachains, the Polkadot Runtime Environment (PRE), and cross-network bridges.
Polkadot's relay chain is created with Substrate, a blockchain-building framework distilled from Parity technologies' experiences developing Ethereum, Bitcoin, and business blockchains. It sits at the heart of the network, assisting in the mapping of addresses to account information, organizing communications, and establishing consensus via a pooled security mechanism based on proof-of-stake (PoS). All validators staked their DOTs and created blocks on the relay-chain immediately. The relay chain lacks smart contract functionality and is instead intended to be a simple protocol for connecting other network members and providing transaction finality. Because this core chain handles the majority of the network's transaction flows, activities on the relay-chain may be more expensive. However, the relay-chain will outsource a major amount of the computing effort to the parachains surrounding it, which may have "differing implementations and characteristics."
Parachains Parachains will be utilized to gather and process transactions, with the relay chain serving as a finality check. Parachains will execute transactions simultaneously across many chains, rather than queuing and processing them sequentially, to boost transaction throughput. Polkadot imposes no restrictions on the design and organization of parachains. These network components may be application-specific or provide support for specific functionality (e.g., privacy or scalability). However, each parachain must create proof on a regular basis so that a certified Polkadot validator may check and reconcile previous transactions. Parachains also share the same state as the relay-chain, which means that if the relay-chain reverts at any moment, so would all parachains. Cross-parachain communication is inherent to Polkadot in terms of composability. As a result, parachains will be able to communicate with one another (including transactions and data) "without the requirement for smart contracts to provide the bridging functionality."
Polkadot Runtime Environment (PRE) The PRE consists of the networking, consensus, and WebAssembly Virtual Machine subsystems. Polkadot breaks the components of the PRE down to Network Interactions State storage and the Storage Trie Consensus Engine Wasm Virtual Machine (VM) Polkadot's state machine is compiled to WebAssembly (WASM), a high-performance virtual environment. WASM is developed by major companies including Google, Apple, Microsoft, and Mozilla, that have created a large ecosystem of support for the standard.
Polkadot's networking uses libp2p, a cross-platform network framework for peer-to-peer applications that handle peer discovery and communication in the Polkadot ecosystem. The Polkadot runtime environment is being coded in C++, and Golang to make Polkadot accessible to a wider range of developers. Bridging Polkadot will eventually enable connections to outside networks like Ethereum and Bitcoin through a series of specialized bridge contracts or modules. There are two different types of external bridging in Polkadot: Bridge contracts: Smart contracts that connect Polkadot's relay-chain to external chains (for example, the Parity Bridge between an Ethereum Proof-of-Authority (PoA) sidechain to a Substrate-based chain) In-built bridging modules: Purpose-built modules that help external chains connect with Polkadot.
V. What is DOT?
1. Detailed Information about DOT
Polkadot's native token, DOT, is the key to bringing all of these variables together—proof-of-stake validation, cross-chain interactions, and base-layer programming.
Validators invest or put up DOT as collateral to approve the next block on Polkadot's network. DOT serves as Polkadot's proof-of-stake mechanism in this fashion.
Polkadot's relay chain uses the DOT token to validate blocks. However, DOT isn't solely used for staking in the Polkadot system. In addition, the token is utilized for governance and bonding. All DOT holders have the ability to vote on network governance issues including improvements and network fees.
2. DOT Allocation
At the start of the network, 10 million DOT (old) will be created as a native token. The initial supply was later redenominated by a community vote, a cosmetic change that increased token account balances by 100x. The following allocations are the same for both DOT (old) and new DOT:
50% allocated to token sale investors.

5% allocated to the 2019 private sale investors.

3.4% allocated to 2020 token sale investors.

11.6% retained by the Foundation for future fundraising efforts.

30% allocated to the Web 3 Foundation for immediate use to develop the Polkadot network and other undisclosed Foundation activities.

The total supply is not fixed at 1 billion but instead will use a to-be-determined inflationary model to supply the rewards for the proof-of-stake (PoS) system.
3. DOT Noticeable Milestones
In Oct. 2017, the Web 3.0 Foundation raised the equivalent of $145 million in ether (ETH) through a token sale. The sale was split between a private sale, which raised over $80 million, and a public sale, which raised the remainder.
The Web3 Foundation reported in June 2019 that it has sold another 500,000 DOT (old) tokens (now 50 million new DOT) to an unnamed group of private investors. According to prior Polkadot reports, the firm was hoping to raise $60 million at a $1.2 billion value through this token sale. The fundraising was certified successful in June 2019, suggesting that the Polkadot met its goal.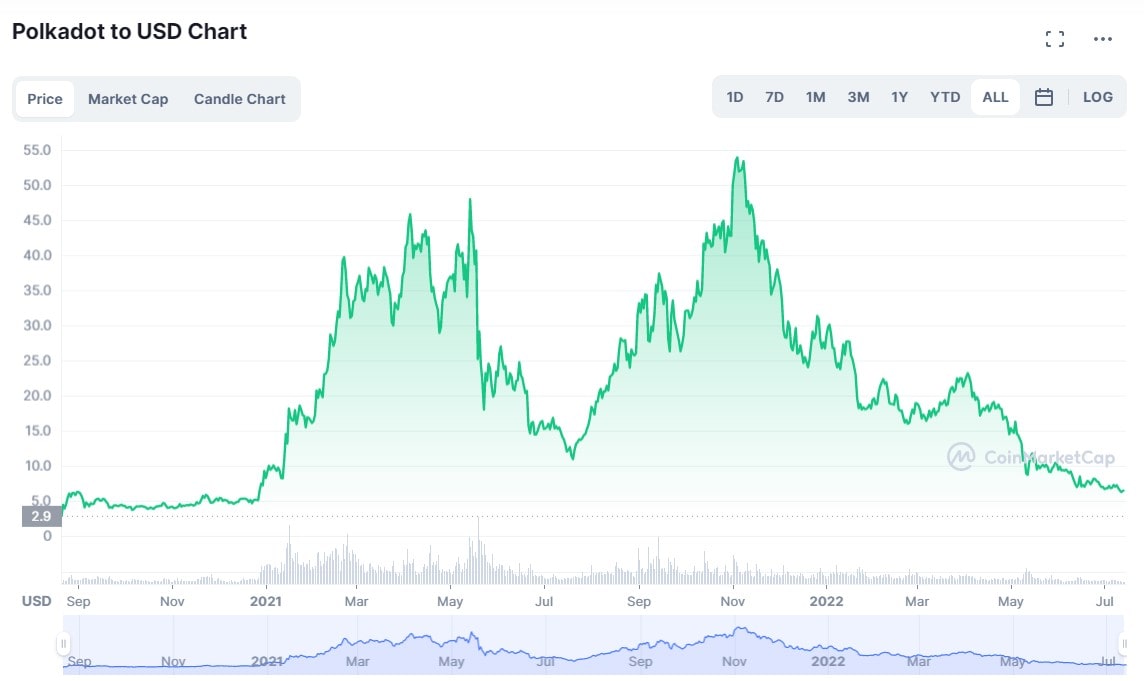 4. Use Cases of DOT
The three main purposes of DOT tokens in the Polkadot network are:
Governance:

Token holders have complete control over the protocol. The holders can take care of functions such as determining fee structures, protocol changes, and parachain additions or removals. The participation function will be hardcoded into the protocol.

Operations:

Properly maintaining the consensus mechanism is essential for the proper functioning of the Polkadot coin protocol. DOT token holders must be active participants to ensure that they don't get punished for suboptimal behavior. 

Bonding:

Validators need to bond (stake) DOT tokens to the new parachains and receive active participation rewards.
DOT holders must fulfill the following functions within the platform:
Act as a validator, "collator", nominator or fisherman.

Participate in network governance.

Be a parathread collator by making bids for block inclusion.
VI. How to earn & own DOT?
Polkadot, like many post-Bitcoin cryptocurrencies, is both a token that can be bought or sold via exchanges like Coinbase and a decentralized protocol.
Polkadot may be purchased on a number of reliable cryptocurrency exchanges. Many exchanges do not provide Polkadot trading pairings in direct fiat. You must first load fiat cash before transferring it to BTC or ETH. If you have ETH or BTC, you may exchange these two coins for Polkadot. Binance and Poleniex are two Polkadot exchanges that offer this cryptocurrency. Polkadot where-to-purchase inquiries are simple to answer, and Polkadot may be found in a variety of exchanges.
However, when you trade DOT on a DEX, remember that it is a pegged version that is a representation of the asset on a specific blockchain. The actual DOT token can only be transferred to and from DOT addresses on the Polkadot network.
VII. Which Crypto Wallets are suitable for DOT?
Here is the list of popular and best Polkadot DOT wallets:
Trust Wallet

imToken

TokenPocket

Cool Wallet Pro

SafePal

Ellipal Titan

Ledger Nano X

Guarda

Parity signer

Polkawallet

Atomic Wallet

Cobo

Swipe

Lunie
VIII. DOT Recent Developments
Recent DOT crypto news has seen the platform continue to auction off parachain slots to innovative projects. The latest cryptocurrency projects to receive a parachains included data solution Integritee, metaverse infrastructure group BridgePort, and identity protocol Kilt.
The blockchain has also been recognized as one of the greenest crypto networks, while still maintaining its 21 parachains, over 250 decentralized apps (dApps), and 2,500 nodes.
DOT's August 2022 newsletter said: "Polkadot has achieved new recognition as having one of the lowest carbon footprints among blockchain protocols, according to a recent report from Messari on the regenerative finance movement."
In under a year, it has already racked up a number of impressive accolades and developments, some of which include:
Climbing to become the fourth largest cryptocurrency, achieving a peak market capitalization of almost $18 billion.

Undergoing redenomination, with old DOT tokens split 100 ways to produce new DOT tokens—increasing the supply from 10 million to 1 billion.

Getting rebranded by design agency Koto, using community input via the Polkadot Brand Bounty Program.

Seeing a dramatic uptick in developer activity, with over 340 projects now being actively developed on the platform.
IX. Teams, Funds & Partners of Polkadot
1. Team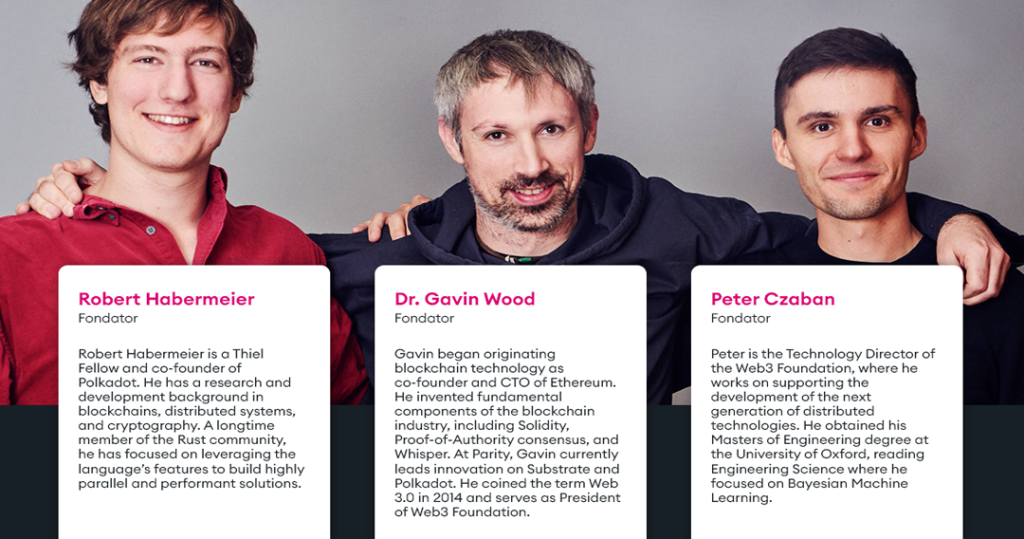 2. Investment Funds
3. Partners
X. Where is Polkadot (DOT) information to be updated?
Currently, Crypto users can fully consult, research, and analyze information about Polkadot (DOT) through famous media newspapers such as Nasdaq, Forbes, Coinbureau, Yahoo!Finance, CoinTelegraph, Coinbase, Kraken…
These media are constantly updated with useful information, new activities, notable events of Polkadot (DOT), and all the topics surrounding it. Accordingly, Meta Lion Ventures continuously updates the topic of outstanding projects in Blockchain and hot events organized between Meta Lion & partners.
XI. FAQs about Polkadot (DOT)
What is the purpose of Polkadot?
Polkadot allows all parties involved to plug public and private blockchains into a single connection layer, resulting in network communication that is free of intermediaries. Chains can keep their own validator set or utilize Polkadot's pooled security mechanism to validate transactions through the relay chain, which is in charge of shared network security, consensus, and interoperability.
How is Polkadot structured?
The Polkadot network includes a main blockchain called the "relay chain" and many user-created parallel chains (or "parachains"). It also has a connecting layer, or "bridge," that allows value and data to be transferred between most blockchains — and can even be used to connect to non-blockchain databases.
What is Polkadot's consensus method?
Polkadot uses Nominated Proof of Stake (NPoS) as its consensus method: there is a known and a limited number of validators in the active set, which is decided by governance. Inclusion in the active set is determined by your total self-bonded and delegated stake. 
Is Polkadot a good investment?
Polkadot is an intriguing investment opportunity because it's only scratching the surface of its potential. It launched its biggest innovation, parachains, in December 2021, and it's gradually adding parachain slots.
Passive income is also a nice perk of holding DOT tokens. While you can stake many cryptocurrency types, Polkadot offers higher reward rates than most.
Conclusion
Given the total benefits for entrepreneurs, developers, consumers, and investors, Polkadot's growth appears to be one to watch.
The use of DOT as the protocol's governance token and for staking to protect the network or create new chains shows that the project intends to incentivize adoption by paying members. Indeed, staking DOTs has become one of the most attractive incentives in the cryptocurrency world, with an average yearly payout of 10%. 
The platform's stable and reliable network along with its roadmap adherence contribute to a promising scenario for the project. From the perspective of technology and economic value, Polkadot is among the most ingenious innovations in the blockchain industry and the next few months will be crucial to estimate the network's actual capabilities.