I. What is VeChain?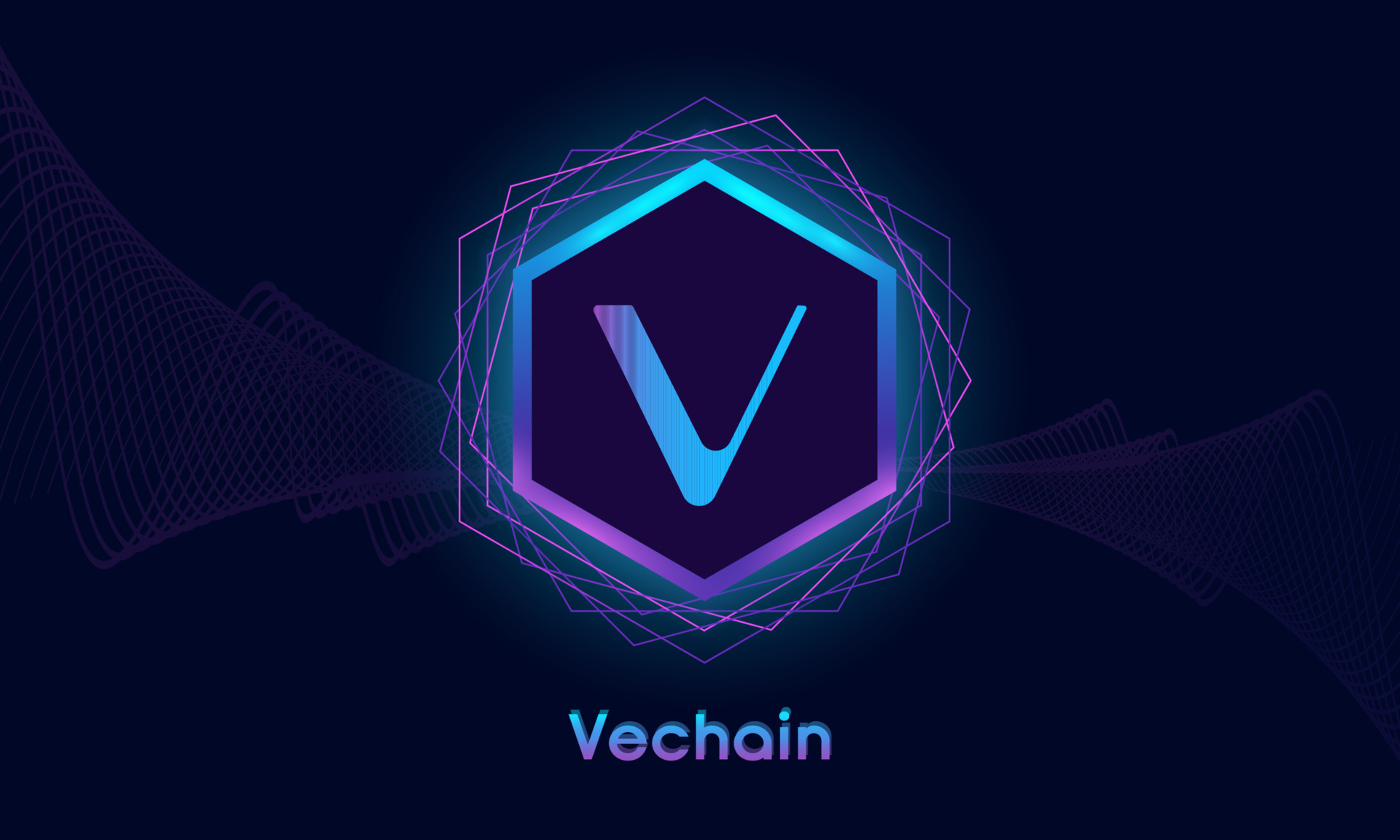 VeChain is a blockchain platform with the goal of improving supply chain management and business processes. Its goal is to streamline these processes and information flow for complex supply chains through the use of distributed ledger technology (DLT).
VeChain Token (VET) and VeChainThor Energy (VCE) are two distinct tokens on the Vechain platform (VTHO). The former is used to transfer value across VeChain's network, while the latter is used to power smart contract transactions as energy or "gas."
II. History of VeChain 
Sunny Lu, the former chief information officer (CIO) of Louis Vuitton China, established VeChain in 2015. It began as a subsidiary of Bitse, one of China's major blockchain startups, and is one of the few blockchains with an established customer base.
Initially, the VEN token functioned on the Ethereum blockchain. In 2018, VeChain moved to its own blockchain and rebranded. The VEN blockchain was rebranded as the VeChainThor (VET) blockchain as part of the rebranding.
The white paper for the VeChain blockchain platform outlines its goals. The company's primary goal was to disrupt the supply chain sector by making data actionable and transparent. It also intends to be a pioneer in VeChain-based dApps and initial coin offerings (ICOs) as well as an Internet of Things (IoT) intermediate.
VeChain has inked strategic partnerships over the years with several companies in order to help achieve this goal. Among them is a deal with PricewaterhouseCoopers (PwC) to deploy VeChain's blockchain-powered solutions to improve product verification and traceability for the accountancy firm's clients.
VeChain has also collaborated with Renault, developing a digital automobile maintenance book that cannot be tampered with in collaboration with Microsoft and Viseo, and is the government technology partner for Gui'an, a Central Chinese Government economic development zone.
III. Striking Features of VeChain (VET)
VeChain is a platform designed to provide a comprehensive solution to organizations wishing to increase efficiency and establish new ways to do business and manage their operations. VeChain has developed a wide range of tools and features to assist it in accomplishing this, making it an appealing option for organizations. These are some examples:
1. Fee Delegation Protocol (VIP 191)
VeChain's proprietary fee delegation technology enables a corporation to have the network's gas fees handled by a smart contract and designated gas account. This means that a corporation can pay to use VeChain's one-stop-shop service platform, ToolChain, and use the network like any other digital service, paying just for the data they use/produce. This significantly increases the network's desirability because a corporation no longer has to manage the crypto component itself while still benefiting from its public blockchain as a service.
2. Turnkey Offerings
Building new blockchain-based solutions can be a difficult task that may necessitate the hiring of blockchain engineers, smart contract developers, security specialists, and others.
However, with VeChain, businesses can easily leverage a variety of turnkey software and hardware solutions that can be quickly installed with little to no experience. This enables firms to get their initiatives up and running as quickly as possible and at the lowest feasible cost.
3. High Efficiency
Due to its masternode-based consensus method, the VeChainThor platform, unlike many other smart contract-capable blockchains, is extremely efficient, requiring an only fraction of the energy that competing platforms do. It accomplishes this while retaining a comparable level of security.
According to VeChain, the annual energy consumption of the VeChainThor blockchain is only 2.4% of the energy required to produce a single bitcoin.
This efficiency leads to lower operational costs on the blockchain, which are several orders of magnitude lower than on Ethereum, assisting in maximizing the cost-effectiveness of running blockchain-enabled apps.
4. Dual Token Economy
VeChain, as previously mentioned, runs on a two-token economy. The VeChain token is the first (VET). Over time, each VET generates a certain number of VeChainThor (VTHO) tokens, which can subsequently be used to pay transaction fees. Because VTHO is less speculative, transaction fees can remain essentially constant, lowering expenses while executing smart contracts and making transactions. Transaction costs are stable in terms of dollar value.
Every VET generates 0.000432 VTHO every day. This means that it would take around 2,300 VET to earn 1 VTHO per day.
5. Sustainable Tokenomics
VeChainThor has a long-term reward mechanism for node holders. 70% of all transaction fees are burned (lowering the circulating supply), with the remaining 30% going to masternode operators.
6. Trusted by Giants
VeChain has formed strategic alliances and business relationships with a large number of well-known companies, many of whom are utilizing its technology to increase corporate efficiency. BMW, Grant Thornton, Trusted Food, Walmart, and Copper Dog are just a few of the great names on its list of partners.
Furthermore, VeChain's channel partners DNV and PwC repackage and employ white-labeled versions of VeChain's technology for their own client networks. DNV's MyStory and PwC's AirTrace, for example, make advantage of VeChain's underlying infrastructure while packaging their individual platforms as their own service offerings.
7. NFT Capabilities
Since 2018, when nodes were minted as NFTs utilizing the VIP-181 token standard integrated into VeChain's protocol, VeChain has included NFT capabilities.
Later, DNV began issuing ISO certificates and other sorts of certificates as NFTs on the VeChainThor network.
VeChain's NFT ecosystem is presently thriving, with commercial apps, gaming ventures, and metaverses being built on the platform.
VeChain will also announce a $1 million fund for eNFT development in April 2021 in order to encourage enterprise adoption and development of the technology.
IV. Core Technology of VeChain (VET) 
VeChain is based on the VeChainThor blockchain, a general-purpose smart contract distributed ledger platform meant to host enterprise-scale dApps. 
The platform leverages a unique consensus algorithm known as Proof of Authority (PoA) to help maintain the blockchain and secure transactions. This leverages a network of 101 Authority Masternode operators who maintain the protocol and uphold the VeChainThor governance policy while securely processing transactions and executing smart contract operations. To become a Masternode operator, users need to pass stringent KYC checks under the guidance of the steering committee and be able to contribute to the growth of the network in some form — either as a developer, KOL, company, or some other entity of net benefit to growth.
The VeChainThor blockchain uses a two-token economy system to separate speculation from operating costs. The first token, VeChain (VET), is the main transactional unit used in the VeChain ecosystem, whereas VeChainThor (VTHO) is used to pay for gas costs (including transaction fees and smart contract execution costs). This ensures businesses can be more certain of their operating costs, rather than being subject to the whims of speculators and excess market volatility. 
VeChain's main product offering is known as VeChain ToolChain. This is a robust blockchain application platform that features a variety of blockchain-as-a-service (BaaS), platform-as-a-service (PaaS), and software-as-a-service (SaaS) solutions — helping both small and larger businesses build and deploy blockchain-powered solutions in record time. 
The PaaS version of VeChain ToolChain provides developers with a suite of tools for building strong DApps with minimal coding. It also contains several off-the-shelf services, such as a food traceability platform, a digital carbon footprint solution, and VeTrust, a risk self-assessment tool. Overall, VeChain ToolChain enables organizations to reap the benefits of blockchain technology without having to reinvent the wheel.
Since VeChain launched back in 2016, it has completed a large number of substantial roadmap items, including launching its mainnet (VeChainThor) in June 2018, introducing the VeVote platform, launching solutions for the food safety, automobile, retail, logistics, and agriculture industries, and announced enterprise NFTs (eNFTs) in May 2021. 
The initial implementation of the second generation of VeChain's Proof of Authority (PoA) consensus, as well as the deployment of the blockchain-based voting platform — VeVote — is scheduled for September 2021.
V. What is VET?
1. Detailed Information about VET
The VeChainThos platform's token is VET currency. This coin's primary function is to transmit value throughout the network. The token was first operated on the Ethereum blockchain, but only until VeChain was successful in moving to the VeChain network. In 2018, the VEN blockchain was rebranded as the VeChainThor blockchain, or VET as we know it today.
2. VET Allocation
The total supply (VET) of Vechain is divided according to the following ratio:
41% for token sale.

9% for Private Investors.

23% for Enterprise Investors.

5% for Co-founders and the Vechain development team.

12% for the operating budget and technology development.

10% for Vechain's business development.
3. VET Token Metrics
Ticker:

VET

Blockchain:

VechainThor

Token Standard:

VIP180, VIP181

Token type:

Coin

Avg. Transaction time:

10,000 TPS

Avg. Block time:

10 second

Total Supply:

86,712,634,466 VET

Circulating Supply:

55,454,734,800 VET
4. Use Cases of VET
In VechainThor, VET will be used for three key purposes:
VET is used as a means of payment (Smart Payment Currency).

Enterprises will use VET to operate business activities running on VechainThor.

The more VET businesses hold, the more rights they have on VechainThor Blockchain.
On VechainThor's Blockchain network, VTHO is in charge of supporting money transactions and implementing smart contracts.
VI. How to earn & own VET?
To purchase VeChain, open an account with a cryptocurrency exchange that supports it. Although availability varies, the following popular crypto exchanges support VeChain trading:
Binance

(not available for U.S. residents)
VII. Which Crypto Wallets are suitable for VET?
Here is the list of popular and best VeChain (VET) wallets:
VeChain Thor Wallet

SimpleHold

Cobo Wallet

Trust Wallet

Ledger Nano S

Atomic Wallet
VIII. VET Recent Developments
The VeChain network recently made a significant announcement addressing what could be its most significant change in 2022. According to the release, the network's community recently voted in favor of a mainnet hard fork on VIP-220.
After many years of hard work, #VeChainThor's most significant mainnet hard fork is ready for deployment following the successful vote on VIP-220, or 'Finality with one Bit' (FOB).

PoA2.0 is game-changing for #VeChain.

Let's explore what users will need to do in a thread👇 $VET pic.twitter.com/uxulpfRc6W

— VeChain Foundation (@vechainofficial) November 7, 2022
VeChain will launch Proof of Authority 2.0 on November 17th, according to the announcement. According to reports, the change will provide benefits such as data quality assurance and increased chain security. VeChain anticipates that the improvement will also get it closer to its aim of global mass adoption.
Transactions will be suspended on the day of the upgrade, according to the VeChain network. The fundamental question is whether the upgrade will have a significant impact on VET's price action. Historically, news of large network upgrades has spurred a wave of bullish demand in the days preceding the scheduled upgrade date.
Surprisingly, the price of VET reached a fresh two-month high just hours following the announcement. It subsequently began a significant selloff of more than 10% in the previous 24 hours.
Given that VET's price has retested the 50% Relative Strength Index (RSI) level, we may witness some bullish recovery attempts in the coming days. The price was also on the verge of colliding with the 50-day moving average.
On-chain analytics from VeChain could help address those questions. Its weighted sentiment indicator has plummeted in the last three days to its lowest level in four weeks.
Now that the weighted mood had fallen to its lowest monthly level, a recovery rather than further decline seemed likely. Given the large discount, the fact that the price has also dropped to its June lows may spur more buybacks.
Binance and FTX funding rates for VET have dropped dramatically in the previous 24 hours. This corresponded to a decrease in demand and an increase in sell pressure. The Binance financing rate, on the other hand, has seen a strong recovery.
The Binance financing rate could signal a resumption of bullish demand in the futures market. The FTX financing rate did not recover significantly, however, this may be due to the exchange's recent difficulties.
In just 24 hours, VET's market valuation was reduced by slightly more than $370 million. In terms of market capitalization, the cryptocurrency gained that much in six days.
IX. Teams, Funds & Partners of VeChain (VET)
1. Team
2. Investment Funds
$20,000,000 was raised in the Crowdsale on Sept 2017, funded by investors with an average price of $0.00072.
3. Partners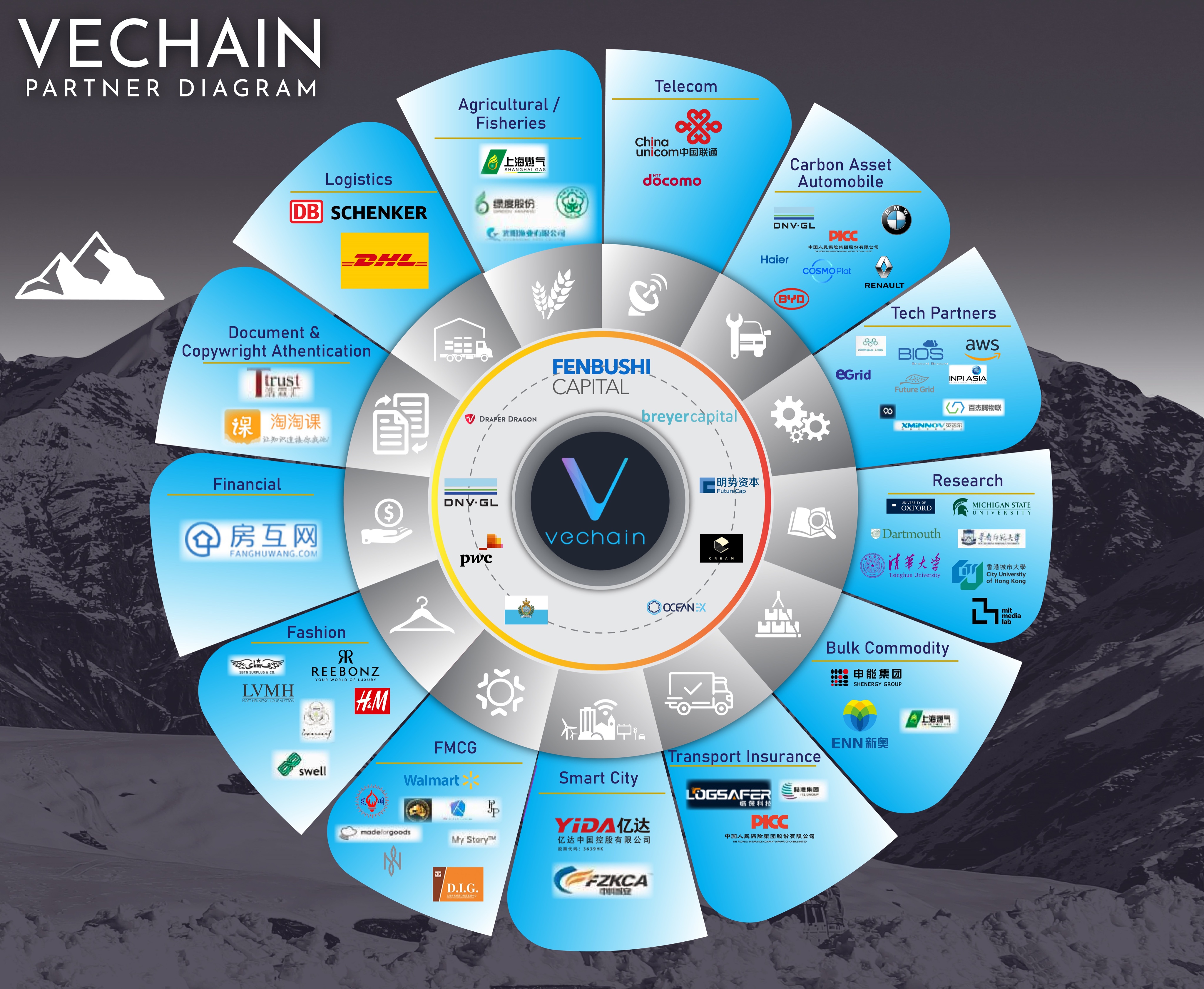 X. Where will VeChain (VET) information be updated?
Currently, Crypto users can fully consult, research, and analyze information about VeChain (VET) through famous media newspapers such as Coinmarketcap, Coingecko, CoinTelegraph, Coindesk, Coinbase, Investopedia, Decrypt, AMBCrypto, Kraken…
These media are constantly updated with useful information, new activities, outstanding events of VeChain, and all the topics surrounding it. Accordingly, Meta Lion Ventures continuously updates the topic of outstanding projects in Blockchain and hot events organized between Meta Lion & partners.
XI. FAQs about VeChain (VET)
What is the origin of VeChain?
VeChain was launched in 2015 by Sunny Lu, the former CIO of Louis Vuitton China. He is also the founder and CEO of the VeChain Foundation, which was founded in 2017.
VeChain started out as a crypto token built on the Ethereum blockchain. VeChain raised funds in an initial coin offering (ICO) in 2017. In February 2018, VeChain rebranded as VeChainThor (VET), its own blockchain. In June 2018, Ethereum VEN tokens were exchanged 1:100 for VET tokens, and the VeChainThor blockchain network officially began operation.
What distinguishes VeChain?
While many blockchains are general-purpose platforms capable of doing almost anything you can program into them, VeChain is far more focused. The main concept is that it gives a unique ID as well as a sensor to track physical goods. It then collects data as the product moves through the supply chain.
Here are a few examples of how firms might use this technology:
A luxury fashion designer can install VeChain chips in its handbags so that buyers can verify if the bags are real or fake.

A grocery store can track food products with VeChain. If there's a disease outbreak related to a specific product, the store can use tracking data to determine which products it needs to recall.

Auto manufacturers can store data related to specific cars on VeChain. Future buyers will then be able to look up information related to the car and confirm that nothing has been tampered with such as the mileage.

In addition to supply chain solutions, VeChain has continued to diversify and modernize its ecosystem capabilities, including adding support in 2022 for a fiat-backed

stablecoin

(VeUSD) to support

DeFi

and

Web3

projects.
VeChain cannot be mined. Instead, it operates on a proof-of-authority system in which the largest players serve as network validators. This means that fewer computers are required to validate and operate the VeChain network. Individuals are unlikely to be able to mine VeChain as a result of this.
Validators may be chosen by other network participants who have a good reputation. These are analogous proof-of-stake coins in which validators are chosen by those with the most stake in the network. Both, however, consume significantly less energy than competing proof-of-work currencies.
How to invest in VeChain?
If you want to buy and own VeChain, you have several options for exchanges and wallets. As a top-25 cryptocurrency, VeChain is widely supported and easy to buy through many major cryptocurrency exchanges. In addition to the official VeChain wallet, you can store your VeChain in a hardware wallet like Ledger.
Conclusion
The sky is the limit now that VeChain has its own platform, a proven track record of delivering on promises, and desirable collaborations with significant corporations.
Future announcements on their partnerships with BMW and Renault are likely, and there is no knowing how many more companies will be attracted under PwC's VeChain banner.
With so many significant partners to its name and real-world applicability, the money is widely regarded as a good bet for investors.