I. What is Wombat Exchange?
Wombat Exchange is an AMM-based decentralized exchange that allows users to swap stablecoins across multiple chains. The Ethereum Virtual Machine (EVM), which may be thought of as the Curve fork on Ethereum, is compatible with this exchange because it was developed on the BNB Chain.
With one-sided liquidity, the use of solvency ratios, and an open liquidity pool design, Wombat Exchange maximizes returns and lowers expenses for investors.
Wombat Exchange smart contracts were examined by auditing companies Hacken, PeckShield, and Zokyo, who discovered no serious flaws. Wombat will eventually create its own environment.
II. History of Wombat Exchange
Wombat Exchange has currently finished the following common tasks:
Participate in Binance MVBIV and Binance Incubation.

Launch in full on the BNB Chain.

More stablecoins should be included, and additional bridging protocols should work together.

Launch of the dynamic pool and sidepool with permissions.

The start of veWOM Gauge Voting.
III. Striking Features of Wombat Exchange
Maximize the use of capital: The open liquidity pool feature of Wombat gives users improved capital efficiency.
Higher scalability: Wombat enables the provision of liquidity in a single token, boosting the expansion of liquidity without the need for laborious activities.
More approachable: The user interface is created to be straightforward and simple to use. Users can earn in any way from various chains.
Low price slip: When using a liability asset model, Wombat decreases slippage when it occurs and eliminates it when the trade amount is bigger.
IV. Core Technology of Wombat Exchange (WOM)
The BNB chain is where Wombat Exchange is initially implemented before being spread throughout other chains. The Ethereum Virtual Machine and Wombat are compatible (EVM)
A special consensus algorithm (POSA) is used by the BNB chain to protect the blockchain. The consensus process used here essentially mixes proof of stake (POS) and proof of authority (POA). It is based on a network of 21 validators who are in charge of carrying out operations on the BNB Chain.
Additionally, in 2022 Hacken, Zokyo, and Peckshield audited the Wombat Exchange smart contracts. No serious flaws were discovered.
V. What is WOM?
1. WOM Token Metrics
Token Name: Wombat Exchange
Ticker: WOM
Blockchain: BNB Chain
Token Standard: Bep-20
Contract: 0xad6742a35fb341a9cc6ad674738dd8da98b94fb1
Token type: Governance
Total Supply: 1,000,000,000 WOM 1,000,000,000
Circulating Supply: 12,278,152 WOM
2. WOM Allocation
Private Sale: 7.5%
Strategic Sales: 3.5%
Public Sale: 3.3%
Binance Seed: 5.0%
Binance Partnership: 15.0%
Team: 20.0%
Liquidity Incentive: 20.0%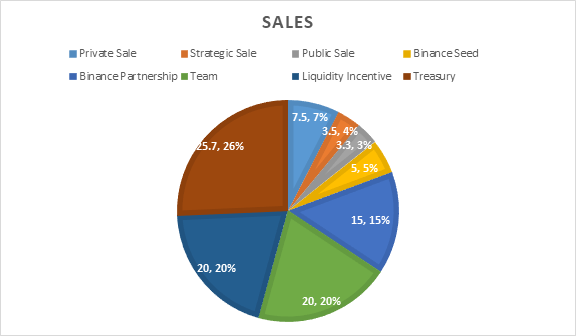 3. WOM Roadmap
Q4 2021:
Seed Sale

Community building

Perfecting Tokenomics
Q1 2022:
Private Sale

Launch Testnet

Audits

Launching Whitepaper
Q2 of 2022:
Launch Mainnet

Launching Bug Bounty

Expand cooperation with many other protocols
Q3 of 2022:
Start veWOM administration and vote on proposals

Preparing for Wombat Labs Innovation Fund
Q4 of 2022:
Launch of Wombat Incubation Lab projects based on Wombat

Partnerships with protocols

Multi-chain implementation
4. Use Cases of WOM
WOM is Wombat's governance token used in the following cases:
Administration

: WOM owners can take part in and cast ballots in matters of governance.

Liquidity Incentive

: WOM can be earned by users that provide stablecoin liquidity to the liquidity pool.

Boosting

: In the Boosting Pool, there is a WOW reward for WOM stakeholders. Voting rights and the ability to raise the APR for the stablecoin liquidity pool they deposit are also available to users who convert WOW into veWOW.
VI. How to earn & own WOM?
Investors can buy WOM on supported exchanges or lock WOM in Wombat Exchange to receive rewards.
WOM is available for trading on the following exchanges: PancakeSwap, Opensea, LBAnk, CoinW, etc.
VII. Which Crypto Wallets are suitable for WOM?
Some of the providers you can choose from smart wallets to store WOM:
MetaMask

Coinbase

Binance

Exodus

Uphold
VIII. WOM Recent Developments
In the future, Wombat Exchange intends to:
Wombat Incubation Labs can now be launched.

Include more stablecoins, and work with numerous more protocols.

Install multichain.

incorporate bridged stablecoins.
IX. Team, Funds & Partners of Wombat Exchange (WOM)
1. Team
Alex Lee(Founder)

: Quantum trader and blockchain engineer Alex Lee have a wealth of experience in project management, portfolio management, and cryptocurrencies.

Daniel Chan(CTO)

: a blockchain engineer and a pioneer in the cryptocurrency space with experience in DeFi, banking, and social enterprise.

Raymond Wong(CMO)

: a marketing pro with extensive knowledge of both traditional and cryptocurrency financing. competent in project expansion from conception to operation.

Mr Duckbill(Advisor)

: Marketing professional with extensive knowledge of both cryptocurrencies and conventional finance. capable of growing projects from conception to completion.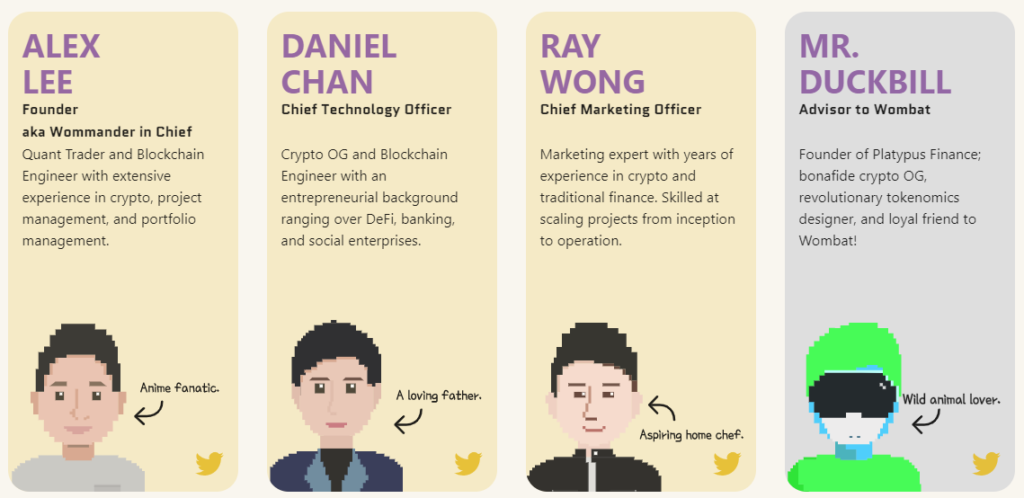 2. Investment Funds
A $5.25 million Series A fundraising round for Wombat Exchange, headed by Animoca Brands and Hailstone Ventures, has been completed successfully. BNB Chain, TPS Capital, GSR, Zokyo, Lunar Station, Eureka Trading, Silverstone, Unanimous Capital, and CryptoWesearch are additional investors in the round.
Since a seed round investment led by Binance Labs in November 2021, Wombat's valuation has increased to $70 million with this most recent round of funding. This round of funding will hasten Wombat's expansion and new product offerings.
Shima Capital then supported Wombat Exchange as the primary investor in a new strategic round of funding in April 2022, with major involvement from Jump Crypto and Wormhole. Wombat will gain further speed in its quest to become the finest stable swap thanks to the most recent fundraising round.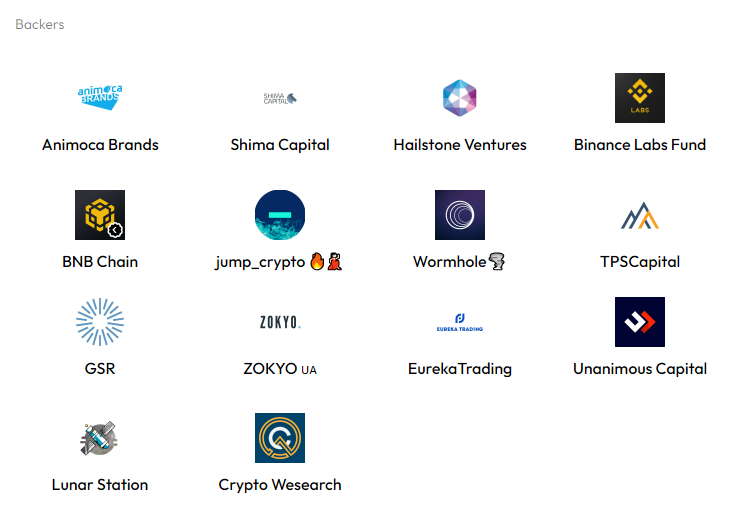 3. Partners
The BNB hotel chain and Binance Lab rank as two of Wombat's major partners. In addition to financial and technological support, Wombat also receives assistance with marketing, development-focused initiatives, and strategic alliance formation.
Wombat just announced a collaboration with DeBank and Metasense.
X. Where can Wombat Exchange (WOM) information be updated?
Currently, Crypto users can fully consult, research, and analyze information about Wombat Exchange (WOM) through famous media newspapers such as Nasdaq, Bloomberg, Forbes, AP News, Yahoo!Finance, CoinTelegraph, Coindesk, etc.
These media are constantly updated with useful information, new activities, outstanding events of Wombat Exchange, and all the topics surrounding it. Accordingly, Meta Lion Ventures continuously updates the topic of outstanding projects in Blockchain and hot events organized between Meta Lion & partners.
XI. FAQs about Wombat Exchange (WOM)
Where can Crypto users buy Wombat tokens?
The following platforms now list the $WOMBAT token; further platforms are expected to follow: Quickswap, Uniswap, MEXC, KuCoin, CoinMarketCap, Coingecko, etc.
How many projects are built on top of Wombat Exchange?
Wombat Exchange is the foundation for ten projects right now, with many more to follow. These projects will provide value to the Exchange and $WOM by creating convex forks, yield aggregators, fixed-income products, etc.
What traditional finance concept does wombat use to manage its liquidity?
Wombat employs a closed-form approach to maximize gas efficiency and incorporates the idea of asset-liability management to enable single-side liquidity provision and boost capital efficiency.
How much can Wombat improve on slippage compared to ellipsis?
Wombat's slippage improvement can reach up to 40% in comparison to our competitors in the industry by implementing Coverage Ratio into our CSMM and invariant.
Conclusion
In conclusion, Wombat Exchange is a next-generation stable swap exchange that employs sophisticated design ideas including asset liability management and immutable curves for increased computational efficiency. Their cutting-edge algorithms and solutions support protocols that will better mold the future of DeFi. The project has only recently finished its initial phases, but it has already drawn tens of thousands of customers and is one of the most prominent stars in the BNB chain ecosystem. However, as this initiative is still in its infancy and has significant flaws, people should think carefully before making an investment.
The above is Meta Lion's comment on the Wombat Exchange project which is our personal opinion, this is not investment advice at all. Investors should be responsible for their own decisions.